CW: disordered eating, anorexia, relapse, recovery
---
They say that relapse is part of recovery, but I thought my anorexia was a thing of the past. Overcome last year, for good.
Until I realized, over the course of several days, that I had begun eating much less than normal.
Skipping the first few meals began innocently enough. With a mild cold, I naturally had no appetite.
As I began to make one excuse after another for food restriction, before I knew it, I couldn't maintain a healthy caloric intake anymore.
What was worse, I didn't wish to stop.
Hunger woke me up in the middle of the night. It distracted me in class. If I ever ate, I left the table still hungry.
Even with food kept within my reach, I could ignore it for days. Meager rations of soup became my daily feast.
To ride out the hunger pangs, I regularly curled up in a fetal position, waiting for the time to pass.
I began to feel cold. Achy. Light-headed. My vision grew blurry. My head filled with fog, and if I couldn't eat, all I wanted was sleep.
Falling deeper into the pit, my hunger disappeared, or perhaps it just became easier to ignore.
I experienced the sick euphoria of near-fainting, and of rapid weight loss.
Food made me nauseous. I could feel myself letting go of any reason to eat.
---
Except that in my healthy mind, I knew better.
"I raise a hallelujah, in the presence of my enemies
I raise a hallelujah, louder than the unbelief
I raise a hallelujah, my weapon is a melody
I raise a hallelujah, Heaven comes to fight for me…"

— Jonathan David Helser & Melissa Helser
My soul, body, and mind belong to the Lord my God.
I knew I was experiencing a slow death. That there would be no life for me down this road. I'd been down it before.
The first night I became aware of the unwelcome voice of ED, I began to lift up my spiritual weapons of praise and thanksgiving.
However long the storm would last, I knew that God would be with me.
---
For the next two weeks, I marinated in physical and spiritual hunger.
In desperation, I pleaded with God to take away this affliction. Day and night, I asked for deliverance.
Why was I fighting the same old battles? After all this time, had I really gotten anywhere?
I began to lay down the keys of the inner chambers of my heart. I sank into a deeper position of surrender.
Why do we return to false idols? This body is not my own. Yet, if it desires satisfaction, it must come from the daily portion of the Lord.
These groaning bones, this singing flesh, and my every breath have been fashioned and purposed by the Potter's hands.
Give us this day our daily manna. In Him are my fountains.
He is my provision. In Him I won't run dry.
"I want all that You offer
Your living water
Drink from the endless well
I will sit at your table
Forever grateful
Forever where You plan…"

— "Fountains" by Josh Baldwin
---
Humbled to have unlearned my ability to eat, I became a twenty-year-old infant under my Father's care.
Through the care of others, He led me to sit and dine, however reluctantly, in the presence of my enemies. I never felt alone, even in the cycle of self-destruction.
I was kept from the brink of implosion by the saving hand of grace.
Powerless on my own, I allowed my community to cover me in prayer.
"I'll praise before my breakthrough
'Til my song becomes my triumph
I will sing because I trust You
I will bring my heart, I will lift my song"

— Bryan & Katie Torwalt
---
My sisters surrounded me, like warriors of prayer.
I continued to sit in my hunger, but I became immersed in even greater intercession and worship.
Every meal was a battleground. I had to dig deep to find my reasons to eat, to fight, to live. I groaned out loud with the Holy Spirit.
I had to choose recovery, not out of fear of death, but out of love for life. I put my hope in the plans that God has prepared for me, letting His confidence outweigh the uncertainty involved with governing my own way.
I continued to wrestle with my God-given identity. What was my individual expression of His specific love for me?
"I am no victim, I live with a vision
I'm covered by the force of love
Covered in my Savior's blood
I am no orphan, I'm not a poor man
The kingdom's now become my own
And with the King I've found a home

"He's not just reviving
Not simply restoring
Greater things have yet to come

"He is my Father, I do not wonder
If His plans for me are good
If He'll come through like He should
'Cause He is provision and enough wisdom
To usher in my brightest days
To turn my mourning into praise

"I am who He says I am
He is who He says He is
I'm defined by all His promises
Shaped by every word He says…"

— Kristene DiMarco
---
I lay awake one particular night, triggered by disordered thoughts, and I quietly wondered how long it would be before I could climb out of this hole.
Forty minutes passed.
Gradually, I realized that something had tangibly changed inside of me.
I could no longer find any reason not to eat the Valentines under my bed. My chains were broken.
I pulled out a cookie, some chocolates, and a few yogurt-covered pretzels. At 2 in the morning on Thursday, I stepped into my freedom.
"Fear can go to hell; shame can go there too. I know whose I am: God, I belong to You."
---
The following morning, my neighboring friend (Ja) grabbed me for breakfast. Fighting back my nausea, I still managed to finish (and enjoy) my sugary cereal.
After a long walk with God around the lake, I was ready and hungry for lunch. (And dinner. And snacks!!)
As I progressed further into the day, I grew more certain of my victory. But it didn't happen overnight, nor did it come from my own willpower.
I found out later that the timing was no coincidence. At 1am that same night, my best friend (Mc) had prayed for my bodily submission to God.
It was the final push needed to change the spiritual atmosphere around me.
So much prayer and buildup had preceded my breakthrough, and my faith was renewed in seeing the fruits of perseverance.
God lets nothing go to waste. During the time I spent relapsing and engaging in serious warfare, I became desperate for Jesus. I chose to open my mouth to Him, and I allowed Him to fill me with good things.
During those two weeks, I leaned on community. I was delivered because of the fellowship of my sisters and the intercession of the church. Never was I forsaken.
And God felt so, so real to me through that trial.
Now that I've partaken of this triumph, I must keep choosing Him. This is recovery: living for something greater.
---
I won't let yesterday's struggles taint the joy and fullness of living today. His mercies are new every morning.
A mentor messaged me this past weekend: "Choose not to let yesterday use up too much of today."
So, here we are now. Alive and rejoicing.
---

At this time in 2018, I opened up in a post, called Let's Get Real, for #NEDAwareness. Though the struggle may appear similar on the surface, I already see the evidence of massive transformation. Truly, God has begun a great work in my heart, and I am certain He will see it to completion.
I pray that my testimony will speak of hope in eating disorder recovery, and proof of God's faithfulness in all circumstances. He doesn't give up on any of us, no matter who we are, and where we come from.
All He wants is you to #ComeAsYouAre into His arms. His healing will do the rest.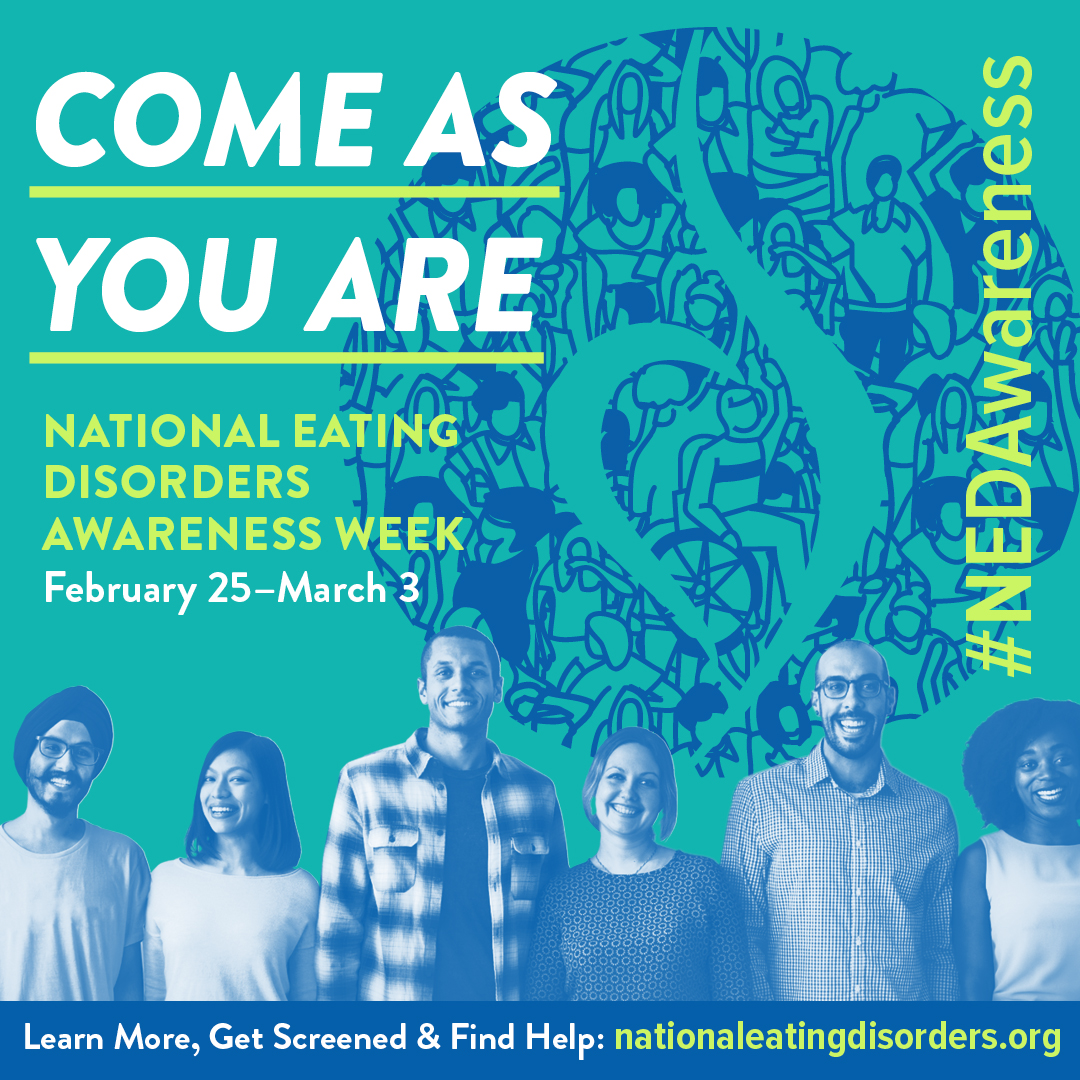 National Eating Disorders Awareness Week (#NEDAwareness) is February 25 – March 3, 2019. We're changing the conversation around food, body image, and eating disorders! Join the movement and #ComeAsYouAre, not as you think you should be. www.nedawareness.org.
---
Thanks for reading!
With love,